Astonish your guests' taste buds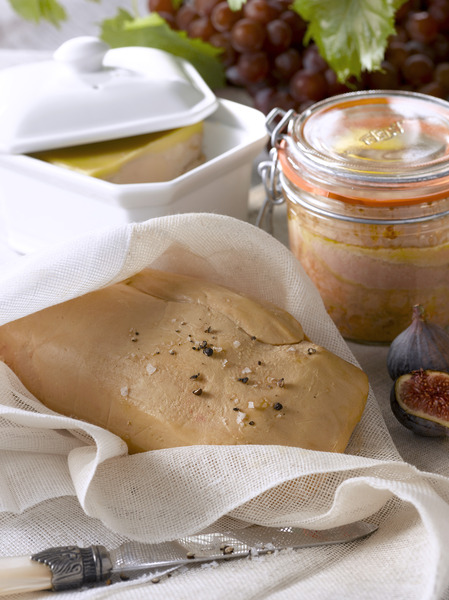 There are many ways to make your own Foie Gras... Some of the simpler recipes are shown here. Feel free to make any additions or changes that take your fancy.
Ingredients
For raw duck Foie Gras of about 550g:
salt (10g)
white pepper (1g)
2 tablespoons of alcohol: Armagnac, Sauternes or another syrupy white wine (Pineau des Charentes, Floc de Gascogne or Porto).
Preparation
First stage
Carefully remove the veins, marks and bitter parts of the liver using a knife, without damaging the lobes.
Second stage
Season all over with a good sprinkling of salt and pepper. You can also add 1g of sugar. Carefully place the liver in a terracotta terrine dish and gently press down. Pour the alcohol over the liver. Cover with cling film and refrigerate soaked in seasoning and alcohol for 24 hours.
Third stage
The next day, remove the cling film and seal the terracotta dish with its cover. Cook in an oven bain marie at a temperature of 200°C for 45 minutes. After cooking, leave to cool on the worktop then place in the refrigerator.
After a day or two in the refrigerator, your Foie Gras is ready. You can enjoy it immediately although it keeps for a maximum of 1 week.
.