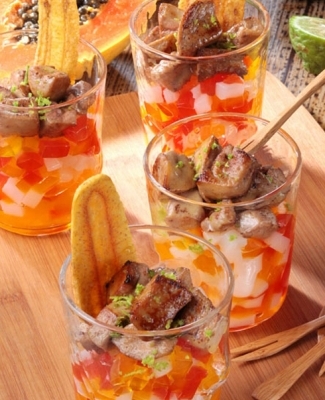 Exotic Pan Fried Foie Gras Shots
10 min.
For 8 people





Ingredients
400 g raw duck foie gras, veins removed
1 mango
1 papaya
1 pear
1 Kaffir lime
Fleur de sel salt
Freshly milled rose peppercorns
2 bananas
Preparation
Peel the mango, pear and papaya, removing the seeds. Cut the fruits into small dice and reserve the juice in a salad bowl.
Wash the Kaffir lime thoroughly and finely grate the zest.
Cut the Foie Gras into 2 cm cubes and pan fry for approximately 30 seconds on a medium heat.
Divide the fruit and juices between 8 shot glasses.
Gently place the cubes of Foie Gras on top. Add the Kaffir Lime zest, a little fleur de sel salt and a grinding of rose peppercorns.
Serve immediately with banana chips.
How to make banana chips:
Ingredients:
2 bananas
200 ml olive oil
Method
Peel the bananas and cut lengthways.
Place the banana slices on a baking tray lined with greaseproof paper. Bake in the oven for approximately 1 hour and 45 minutes at 90°C. Turn them once they start to turn golden. When ready, leave to cool then place vertically in each shot glass.