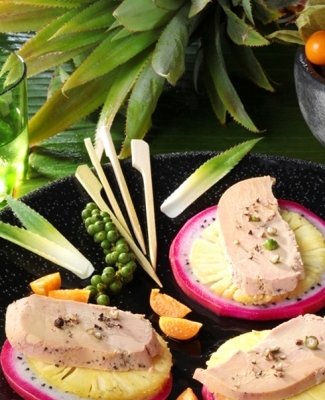 Foie Gras with carpaccio of Victoria pineapple and Pitaya dragon fruit
10 min.
For 4 people





Ingredients
150 g whole duck Foie Gras (mi-cuit)
1 Victoria pineapple (Reunion Island)
1 pitaya (dragon fruit)
12 physalis
Fleur de sel salt
Green peppercorns
Preparation
Peel the pineapple and cut into thin, round slices.
Wash the pitaya and slice into thin rounds.
Cut each physalis into quarters, crush the green peppercorns.
Take the Foie Gras out of the refrigerator 10 minutes before serving. Cut into slices.
On a serving plate, lay one slice of pineapple on top of one slice of pitaya. Add a slice of Foie Gras. Decorate the plate with the physalis pieces.
Season with fleur de sel salt and crushed green peppercorns.
Serve immediately!
Recipe from Maxime Lafranceschina – MOF Primeur 2015