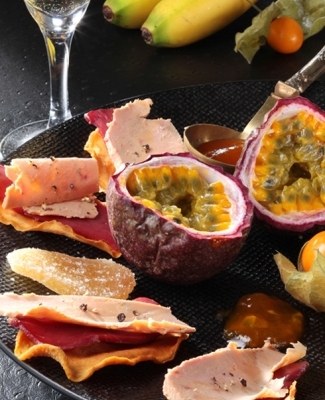 Mango crisps with Duck Magret and Foie Gras
1 h. 40 min.
For 6 people





Ingredients
150 g duck Foie Gras (mi-cuit)
90 g de Magret séché (dried or smoked duck breast slices)
1 large mango (not too ripe)
4 passion fruits
12 physalis
Crystallised ginger
Mango chutney
Fleur de sel salt, freshly milled black pepper
Preparation
Peel the mango and cut into thin slices lengthways, if possible with a mandolin.
Place the slices of mango on a baking tray lined with greaseproof paper and bake in the oven for one and a half hours at 100°C, turning once half way through the cooking time.
Remove the fat from the Magret slices and cut the passion fruits in half.
Remove the dried mango chips from the oven.
When ready to serve, lay a slice of Magret on each mango crisp, followed by a generous shaving of Foie Gras. Season with freshly milled black pepper and fleur de sel salt.
Serve as an aperitif with the passion fruit, physalis, mango chutney and a few pieces of crystallised ginger.
Enjoy immediately !