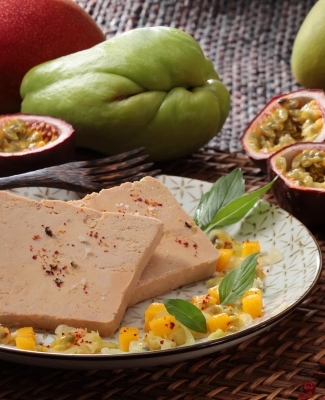 Le Foie Gras with christophine, mango and passion fruit salad
10 min.
For 4 people





Ingredients
300 g Foie Gras
1 christophine (chayote)
1 passion fruit
1 mango
A few basil leaves
2 tbsp of grapeseed oil
Cracked rose peppercorns
Sea salt
Preparation
Cut the passion fruit in half and remove the juice and flesh.
Make a vinaigrette by mixing together the oil and the passion fruit. Season with salt and freshly ground black pepper.
Peel and finely dice the mango. Wash and grate the christophine. Mix together and add the vinaigrette. Remove the Foie Gras from the refrigerator and cut into slices about 1 cm thick.
Share the salad between the 4 serving plates and add two slices of Foie Gras per plate. Season with a small amount of sea salt and cracked rose peppercorns and garnish with a few basil leaves.