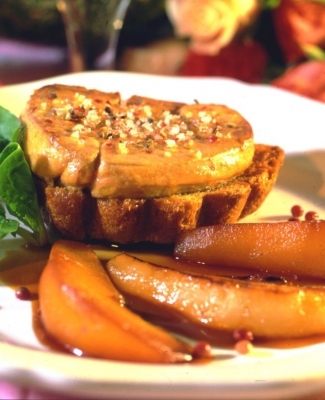 Pan fried Foie gras on soft golden brioche with caramelized fruits
25 min.
For 4 people





Ingredients
1 lobe of uncooked Foie Gras
4 apples
1 large round brioche
4 tbsp plain flour
2 sachets vanilla sugar
1 glass sweet white wine
A few young spinach leaves
Sea salt and cracked rose peppercorns
Preparation
Peel and core the apples and cut into thick slices. Cook in boiling water for approximately 8 minutes. Drain.
Cut the Foie Gras into thick slices and cover each with a thin coating of flour on both sides.
In a non-stick pan, sear the Foie Gras slices on a high heat then reduce the temperature and cook for approximately one minute more. Remove the Foie Gras from the pan and keep warm.
Deglaze the pan with white wine. Add the apples and vanilla sugar and cook until golden over a medium heat.
Toast 4 slices of brioche. On individual serving plates, place the slices of hot Foie Gras on the brioche toast. Arrange the hot vanilla apple slices in a fan at the side with a little sauce.
Garnish with spinach leaves, cracked rose peppercorns and sea salt.