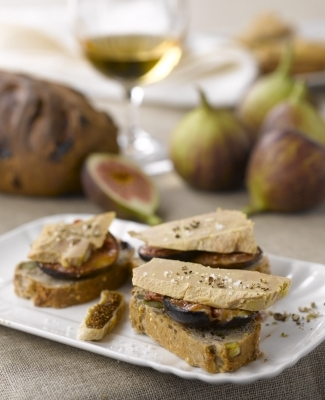 Mini fig and hazelnut bread tartines with Foie Gras and roasted figs
15 min.
For 4 people





Ingredients
200 g Foie Gras (block or whole)
1 large fig and hazelnut loaf
12 fresh fig (or Cox's Pippin apples)
50 g salted butter
Fig compote
Ground black pepper and sea salt
Preparation
Cut the bread into slices about 4 – 5 cm thick.
Cook the fresh figs whole in a little butter for a few minutes, turning from time to time (if using apples, peel and cut into large rings and cook in the same way).
Cut the cooked figs in half and lay on the slices of bread, then add the finely sliced Foie Gras.
Garnish with freshly milled black pepper and sea salt.