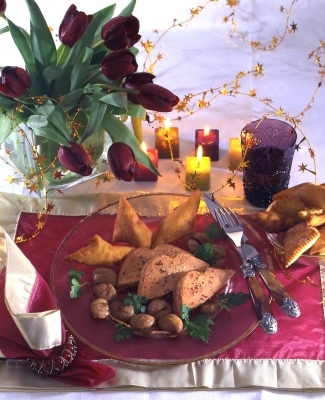 Foie gras with "petits gateaux" and toasted chestnuts
30 min.
For 4 people





Ingredients
12 thin slices of Foie Gras
1 can of cooked, whole chesnuts
Chervil
Ground pepper
Rose peppercorns
Sea salt
For the plain petits gâteaux :

250 g plain flour
100 g butter
100 g sugar
3 eggs
1 small glass of water
1 pinch of salt
Preparation
Make a dough and roll out well. Cut into long diamond shapes either with a knife or a fancy edged pastry roller. Deep fry until golden brown and then drain on kitchen roll. Keep warm in the oven.
Method:
Lay the slices of foie gras in a fan shape on the centre of the plate. Strain the chestnuts and pan fry them for a few minutes. Add to the plate with a few petits gâteaux and decorate with chervil, rose peppercorns and sea salt.