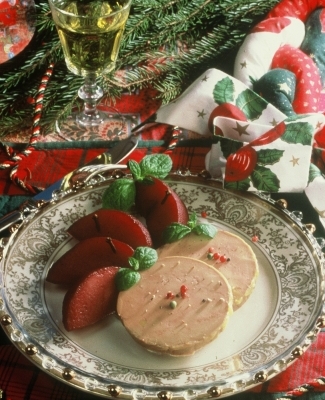 Foie gras with pears poached in spiced wine
30 min.
For 4 people





Ingredients
8 slices of Foie Gras
2 firm pears
A few lamb's lettuce leaves
2 cloves
1 pinch cinnamon
1 pinch pepper
3 tsp sugar
1/2 bottle red wine
Cracked black peppercorns
Preparation
Bring the wine to boil in a saucepan. Add the peeled and quartered pears, the cloves, sugar, cinnamon and pepper.
Simmer for 15 minutes. The pears should still be slightly firm.
On individual serving plates, present the Foie Gras in a fan shape and sprinkle with cracked black peppercorns.
Arrange the pears carefully on the side and garnish with a few leaves of lamb's lettuce.