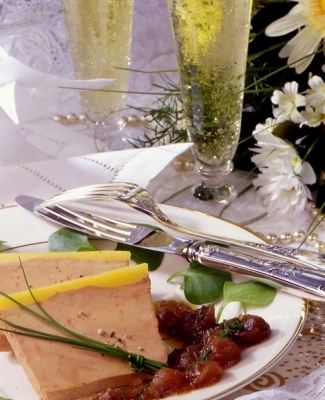 Foie Gras with confit of baby onions
10 min.
For 6 people





Ingredients
12 slices of Foie Gras
A few leaves of lamb's lettuce
750 g of white baby onions
125 g de butter
6 tbsp thick bechamel sauce
125 g crème fraîche
2 pinches of sugar
Salt and pepper
Chives
Preparation
The day before: peel the onions and plunge them into salted boiling water. Leave to cook for 10 minutes, drain and dry with kitchen roll.
In a saucepan, gently melt the butter. Add the onions and cook gently for approximately 10 minutes. Add the bechamel sauce, salt, pepper and sugar and mix with a spatula. Warm the crème fraîche and add it to the onion mixture.
On individual plates, lay a slice of Foie Gras, with a serving of confit onions on the side. Decorate with chives and lambs lettuce.