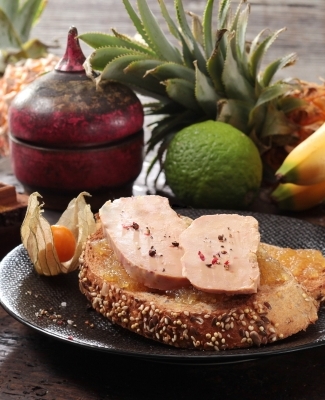 Foie Gras tartine with pineapple and kaffir lime chutney
30 min.
For 4 people





Ingredients
1 whole 300 g ready-to-eat Foie Gras

8 slices wholegrain bread

1 pineapple

1 shallot

1 kaffir lime

100 g brown sugar

3 spoons of Xérès vinegar

3 cardamom pods

racked rose peppercorns

freshly ground pepper

sea salt
Preparation
Wash and zest the kaffir lime. Peel the pineapple, remove the eyes with the point of a sharp knife and dice. Mix in a saucepan with the sugar, vinegar, cardamom and the kaffir lime zest. Season with salt and pepper.
Cover and simmer on a low heat for 20 minutes, stirring from time to time. Leave to cool at room temperature.
Take the Foie Gras out of the refrigerator and slice. Toast the wholegrain bread and spread with a generous amount of chutney.
Add the Foie Gras and season with rose peppercorns and sea salt.