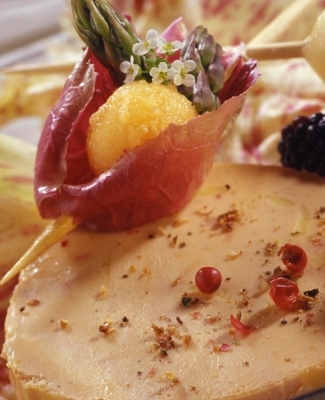 Duck breast and Foie Gras burning bush
30 min.
For 4 people





Ingredients
500 g bloc de Foie Gras
2 pre-sliced duck breasts
1 melon
1 pack mixed salad leaves
1 can of asparagus tip
1 punnet of blackberries and/or raspberries
1 rustic loaf
Ground pepper
Espelette pepper
A few small wooden skewers
Preparation
Dress each individual serving plate all around the edge with seasoned salad leaves. Place a slice of toasted bread in the centre and lay one or two slices of Foie Gras on top.
Add little skewers to the dish made up of slices of duck breast with melon balls, asparagus tips, and red fruits.
Sprinkle with ground pepper and a small amount of Espelette pepper.