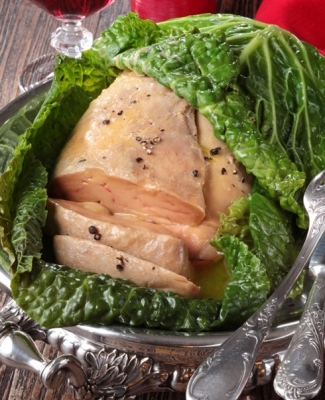 Cabbage stuffed with duck Foie Gras and truffles
35 min.
For 4 people





Ingredients
1 whole, raw Foie Gras, veins removed
1 savoy cabbage
A few slivers of truffle
Fleur de sel salt
Freshly-milled black pepper
Preparation
Remove and wash 10 cabbage leaves.
Cut out the hard central stalks with a small knife.
Plunge the leaves into a saucepan of salted boiling water for 3 minutes to soften them, then remove.
Season the Foie Gras with salt and pepper.
Sprinkle with a few slivers of truffle then wrap in the cabbage leaves.
Cook the parcel for 5-7 minutes in a steamer.
Serve immediately with sautéed small new potatoes or dauphinois potatoes and some lightly toasted slices of good quality rustic bread.