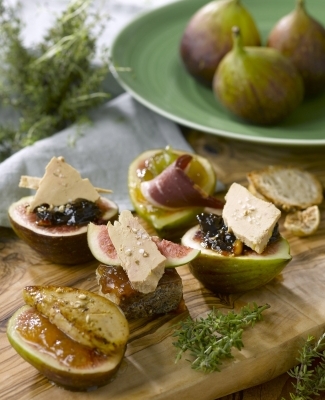 Autumn fruit tartines with pan-fried and ready-to-eat Foie Gras
20 min.
For 4 people





Ingredients
350 g whole duck Foie Gras (mi-cuit)
300 g uncooked Foie Gras
1 kg fresh figs (or apples or pears)
Chutneys made from dried fruits, pistachios, dried apricots, figs, pine nuts, onion marmelade, red currant jelly (home made or shop bought)
Young salad leaves and fresh thyme sprigs
A pack of sliced smoked duck breast
Preparation
The fresh figs cut in half (or other autumn fruits) spread with chutney become the tartines. To some add slices of ready-to-eat Foie Gras, others slices of smoked duck breast, and others pan-fried Foie Gras.
Cut the bread into thin slices as an accompaniment.
For the slices of uncooked Foie Gras, cut to a thickness of approximately 1.5 cm and pan fry for around 3 minutes, turning several times until they are crispy and golden in colour.
Season with sea salt and freshly milled black pepper.
Garnish with seasonal fruits, a few salad leaves and sprigs of thyme.