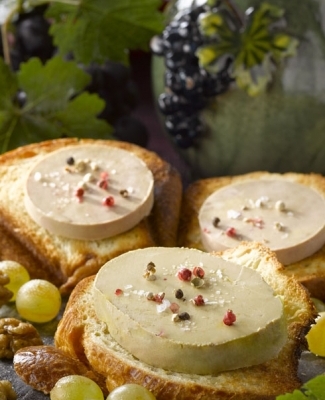 Toasted Foie Gras brioche tartines
10 min.
For 4 people





Ingredients
250 g « Bloc de Foie Gras »
4 small brioches or a Kougelhof
4 small bunches of grapes
Walnuts
Sea salt
Cracked peppercorns
Preparation
Equipment:
A sharp, thin bladed knife which has been run under hot water to cut the Foie Gras slices, a toaster or the grill of a traditional oven to toast the slices of brioche and a serving plate.

How to make our little tartines on a brioche base:
Cut medium thick slices of brioche and toast them lightly.
Cut the Foie Gras and lay a slice on each slice of brioche. Sprinkle with sea salt, chopped walnuts and cracked peppercorns.
Serve on a large slate, a wooden chopping board or a terracotta platter with bunches of grapes to create a rustic looking dish.