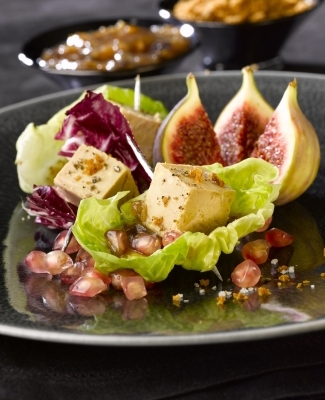 Little Foie Gras lettuce boats
15 min.
For 6 people





Ingredients
3 boats per person:
300 g ready-to-eat Foie Gras (Whole Foie Gras, Foie gras or Block of Foie Gras)
Little gem lettuce heads
6 fresh figs, 1 guava
Chutney
Sea salt
1 slice of spiced bread (pain d'épice)
Freshly ground pepper, flat parsley
Juice of 1 small lime
1 tbsp olive oil
Preparation
Remove the lettuce leaves from the heads and wash them. Dress them with lime juice and a drop of olive oil. Make incisions into the figs and open out like stars.
Cut the Foie Gras into little cubes and place one into each lettuce leaf boat. Crumb the spiced bread onto the Foie Gras. Remove the little pearls of fruit from the guava and place them around the Foie Gras in the lettuce leaf boats. Season with sea salt and freshly milled black pepper.