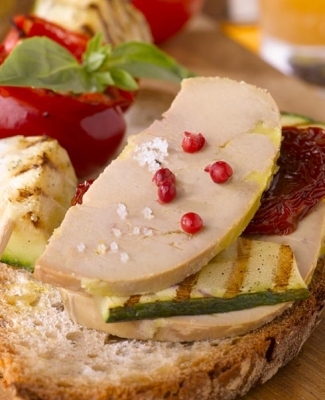 Foie gras and baby vegetables à la plancha
30 min.
For 6 people





Ingredients
400 g whole semi-cooked foie gras
8 slices of farmhouse bread
1 kg tomatoes
1 bunch basil
50 g sugar
5 cl olive oil
Fleur de sel
For the grilled vegetables:
2 aubergines
2 courgettes
2 peppers (red and green)
¼ bunch basil
1 lemon juice
10 cl olive oil
Salt
For the salad:
50 g young lettuce leaves
5 cl hazelnut oil
Balsamic vinegar
Salt, pepper
Kebab sticks
Preparation
1. Peel and quarter the tomatoes. Remove the seeds. Spread on a sheet, sprinkle with sugar and baste with olive oil. Put in oven at 100°C for 1 hour. Allow to cool.
2. Heat the oven grill. Clean and thinly slice the vegetables into different shapes with pastry cutters. Mix the lemon juice with the olive oil and salt, then add finely chopped basil. Soak the vegetables in the marinade.
3. Spread vegetables on a hot sheet to begin cooking, then put in the hot oven for a few minutes to finish. They should be crunchy. Put the vegetables on the wood kebab sticks.
4. Cut the foie gras into slices. Toast the bread. Allow to cool. Garnish with slices of foie gras between basil leaves and candied tomato petals.
5. Season the lettuce leaves with balsamic vinegar mixed with salt, pepper and hazelnut oil.
6. Arrange the sandwiches on a board or on plates with salad and the vegetable kebabs.