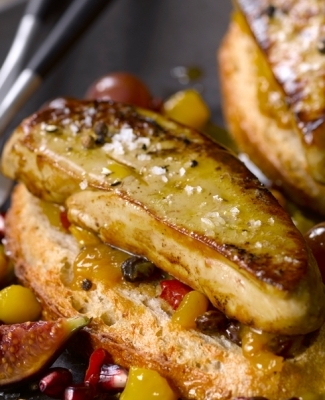 Autumn tartines with pan-fried Foie Gras
20 min.
For 4 people





Ingredients
300 g uncooked Foie Gras
8 slices of wholegrain bread
chutney or mango compote
4 fresh figs
1 bunch of grapes
1 pomegranate to garnish
15 g butter
1 tbsp honey
1 tbsp Xérès vinegar
Sea salt
Freshly ground black pepper
Preparation
Toast the slices of wholegrain bread. Spread each slice with 1 tbsp of chutney or the compote of your choice.
Cut the figs into halves and cook with the grapes in a frying pan with the butter and the honey and deglaze with the vinegar.
Cut the Foie Gras into 1 cm slice and sear them for 1 minute on each side in a very hot frying pan.
Place 2 slices of bread on each plate. Lay the Foie Gras on the toast, season with sea salt and freshly ground black pepper and serve with the warm autumn fruits on the side. The plate can be garnished with additional autumn fruits such as grapes, figs, pomegranate seeds, etc.